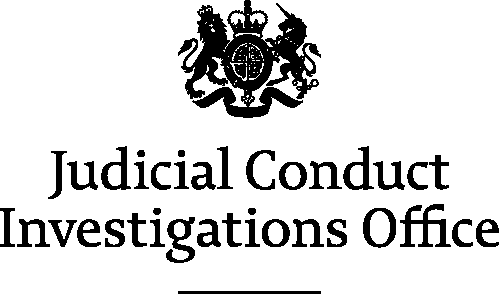 STATEMENT
JCIO 01/23
STATEMENT FROM THE JUDICIAL CONDUCT
INVESTIGATIONS OFFICE
Neale Murphy JP
A spokesperson for the Judicial Conduct Investigations Office said:
Mr Justice Keehan, on behalf of the Lord Chief Justice and with the Lord Chancellor's agreement, has issued Neale Murphy JP of the Coventry and Warwickshire Bench with a formal warning for misconduct for allowing a relative to refer to his judicial status in a court case in which they were involved and for failing to inform his bench chair that he was supporting the proceedings.

An investigation by the Midlands Conduct Advisory Committee found that Mr Murphy's reference to his judicial office was an attempt to lend weight to his relative's case, which risked bringing the magistracy into disrepute.

Mr Murphy also breached the terms of the declaration and undertaking signed by all magistrates on appointment, which includes a commitment to disclose personal involvement, in any capacity, in civil or criminal proceedings.

In deciding to issue Mr Murphy with a formal warning, Mr Justice Keehan and the Lord Chancellor took into account that, while Mr Murphy had apologised and given assurances as to his future conduct, he had also sought to blame court staff for failing to advise him that he should inform his bench chair about his involvement in his relative's case.
ENDS
Notes for Editors
Media queries in relation to the JCIO should be made in the first instance to the Judicial Press Office - telephone 020 7073 4852 or via email - press.enquiries@judiciary.gsi.gov.uk
Sanctions for misconduct by judicial office-holders are set out in the Constitutional Reform Act 2005. They are, in order of severity: formal advice, formal warning, reprimand and removal from office.
For more information about the Office, including details on how to make a complaint against a judicial office holder, you can visit the JCIO website at: Judicial Conduct Investigations website