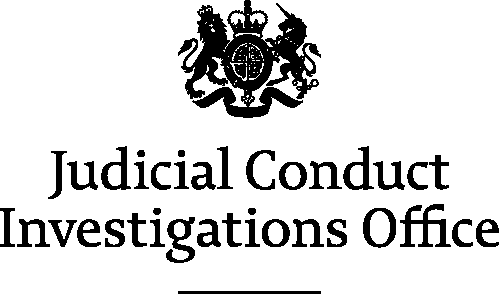 STATEMENT
JCIO 11/23
STATEMENT FROM THE JUDICIAL CONDUCT
INVESTIGATIONS OFFICE
Jennifer Denton JP
A spokesperson for the Judicial Conduct Investigations Office said:
The Lord Chancellor, with the Lord Chief Justice's agreement, has removed Miss Jennifer Denton from office as a magistrate for misconduct.

The declaration and undertaking signed by magistrates on appointment includes a commitment to complete compulsory training and to resign if they fail to do so without an acceptable reason. Magistrates must also have regular competence appraisals.

Miss Denton, who was appointed to the magistracy in 2005, was reported to have missed several pieces of important training between 2017-2022. She had also cancelled several sittings at which she was due to undergo appraisals. Repeated efforts to discuss the issues with Miss Denton proved unsuccessful. Her case was, therefore, referred to the Midlands Conduct Advisory Committee for investigation. Following an investigation carried out under the Judicial Conduct (Magistrates) Rules 2014, Miss Denton was found to have breached her declaration and undertaking. She was also found to have aggravated her conduct by failing sit regularly, failing to attend sittings without notice, and failing to keep in contact with her bench.

The Lord Chancellor and Lord Chief Justice agreed with the advisory committee's recommendation to remove Miss Denton from office. In reaching their decision, they took into consideration that she had not engaged with the investigation and had not offered any explanation or mitigation for her conduct.
ENDS
Notes for Editors
Media queries in relation to the JCIO should be made in the first instance to the Judicial Press Office - telephone 020 7073 4852 or via email - press.enquiries@judiciary.gsi.gov.uk
Sanctions for misconduct by judicial office-holders are set out in the Constitutional Reform Act 2005. They are, in order of severity: formal advice, formal warning, reprimand and removal from office.
For more information about the Office, including details on how to make a complaint against a judicial office holder, you can visit the JCIO website at: Judicial Conduct Investigations website