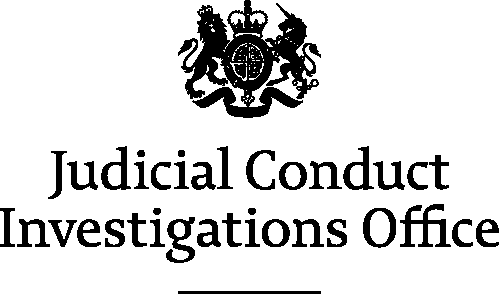 STATEMENT
JCIO 23/23
STATEMENT FROM THE JUDICIAL CONDUCT
INVESTIGATIONS OFFICE
Nic Woods JP
A spokesperson for the Judicial Conduct Investigations Office said:
Mr Justice Keehan, on behalf of the Lord Chief Justice and with the Lord Chancellor's agreement, has issued Mr Nic Woods JP with formal advice for misconduct.

The Useful Information for Magistrates leaflet advises that:

'great care should be taken to avoiding personal reference to your position as a magistrate in circumstances where it could be perceived as an attempt to influence or gain advantage.'

Mr Woods remarked to a work colleague about what he saw as her husband's irresponsible driving. In doing so he referred to the to the fact that he is a magistrate. This resulted in his colleague's husband lodging a complaint with the South East Region Conduct Advisory Committee.

Mr Woods apologised for any upset his actions had caused. He explained that he had only intended to give his colleague some friendly advice. However, he acknowledged with hindsight that referring to his judicial role was wrong in the circumstances.

Following an investigation carried out under the Judicial Conduct (Magistrates) Rules 2014, a conduct panel found that it was improper of Mr Woods to mention his judicial role during the conversation, and that this amounted to misconduct. In recommending a sanction of formal advice, the panel took into account that Mr Woods did not intend to gain any personal advantage by his actions, and that he was not aggressive or threatening during the conversation with his colleague.

Having considered the mitigation offered by Mr Woods, Mr Justice Keehan and the Lord Chancellor agreed with the panel's recommendation.
ENDS
Notes for Editors
Media queries in relation to the JCIO should be made in the first instance to the Judicial Press Office - telephone 020 7073 4852 or via email - press.enquiries@judiciary.gsi.gov.uk
Sanctions for misconduct by judicial office-holders are set out in the Constitutional Reform Act 2005. They are, in order of severity: formal advice, formal warning, reprimand and removal from office.
For more information about the Office, including details on how to make a complaint against a judicial office holder, you can visit the JCIO website at: Judicial Conduct Investigations website