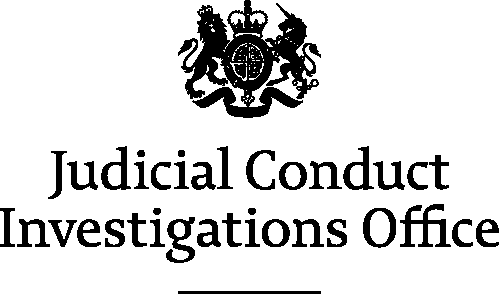 STATEMENT
JCIO 34/23
STATEMENT FROM THE JUDICIAL CONDUCT
INVESTIGATIONS OFFICE
Dr Aaron Borbora JP
A spokesperson for the Judicial Conduct Investigations Office said:
Mr Justice Keehan, on behalf of the Lady Chief Justice and with the Lord Chancellor's agreement, has issued Dr Borbora JP with a formal warning for misconduct.

Upon appointment, magistrates sign a declaration and undertaking, committing to sit at least 13 days (or 26 half-days) each year. Magistrates must also 'regularly log into e-judiciary and update sittings information.

Since 2022, Dr Borbora has failed to meet his minimum sitting requirements, failed to attend scheduled sittings, and failed to make his bench aware of his availability or engage with their attempts to contact him.

In responding to the complaint, Dr Borbora noted that he had been overwhelmed at work and should have requested a leave of absence from the bench. Dr Borbora was very apologetic for the inconvenience his absences and failure to engage had caused. He stated that he remains committed to the magistracy.

Following an investigation in accordance with The Judicial Conduct (Magistrates) Rules 2014, a conduct panel found that Dr Borbora's actions were in breach of his duties under the declaration and undertaking, and that there was a risk of damage to the standing of the judiciary if magistrates failed to undertake sittings.

Having considered the explanation and apology offered by Dr Borbora, Mr Justice Keehan and Lord Chancellor agreed with the panel's recommendation.
ENDS
Notes for Editors
Media queries in relation to the JCIO should be made in the first instance to the Judicial Press Office - telephone 020 7073 4852 or via email - press.enquiries@judiciary.gsi.gov.uk
Sanctions for misconduct by judicial office-holders are set out in the Constitutional Reform Act 2005. They are, in order of severity: formal advice, formal warning, reprimand and removal from office.
For more information about the Office, including details on how to make a complaint against a judicial office holder, you can visit the JCIO website at: Judicial Conduct Investigations website