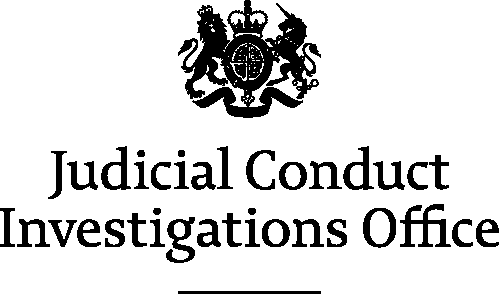 STATEMENT
JCIO 10/23
STATEMENT FROM THE JUDICIAL CONDUCT
INVESTIGATIONS OFFICE
Abigail Buckingham JP
A spokesperson for the Judicial Conduct Investigations Office said:
The Lord Chancellor, with the Lord Chief Justice's agreement, has removed Ms Abigail Buckingham JP, of the Berkshire bench, from the magistracy for failing to meet the undertaking she gave on appointment to sit for at least 13 full or 26 half-days a year.

Ms Buckingham was appointed to the Berkshire bench on 1 April 2021, but has never sat as a magistrate. She did not complete her mandatory training, and failed to respond to her bench chair's repeated attempts to contact her.

The Lord Chancellor and Lord Chief Justice were satisfied that the advisory committee had acted reasonably in seeking Ms Berkshire's removal, having made significant efforts to engage with her without success.
ENDS
Notes for Editors
Media queries in relation to the JCIO should be made in the first instance to the Judicial Press Office - telephone 020 7073 4852 or via email - press.enquiries@judiciary.gsi.gov.uk
Sanctions for misconduct by judicial office-holders are set out in the Constitutional Reform Act 2005. They are, in order of severity: formal advice, formal warning, reprimand and removal from office.
For more information about the Office, including details on how to make a complaint against a judicial office holder, you can visit the JCIO website at: Judicial Conduct Investigations website