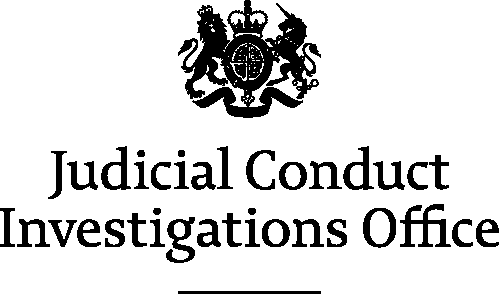 STATEMENT
JCIO 21/22
STATEMENT FROM THE JUDICIAL CONDUCT
INVESTIGATIONS OFFICE
Miss Kaira McCallum JP
A spokesperson for the Judicial Conduct Investigations Office said:
The Lord Chancellor, with the Lord Chief Justice's agreement, has removed Kaira McCallum of the Central London bench from the magistracy for serious misuse of her judicial status.

Following an investigation by the London Conduct Advisory Committee Miss McCallum was found to have associated herself publicly with activity in relation to the government's response to the Covid pandemic. In doing so, Miss McCallum was also found to have aggravated her conduct by referring publicly to her judicial status.

The Lord Chancellor and Lord Chief Justice found that Miss McCallum's conduct amounted to a serious breach of important guidance on judicial impartiality and of guidance issued to magistrates about use of the suffix "JP".

Miss McCallum also sent a highly inappropriate email to a senior manager in His Majesty's Courts and Tribunals Service, who had issued information to staff and judiciary about Covid safety measures.

In deciding to remove Miss McCallum from office, the Lord Chancellor and Lord Chief Justice agreed with the finding of a disciplinary panel that, due to the nature of her conduct, allowing her to remain in office would risk damage to the reputation of the judiciary. They also took into account that Miss McCallum had failed to acknowledge her actions were in any way improper for a judicial office-holder.
ENDS
Notes for Editors
Media queries in relation to the JCIO should be made in the first instance to the Judicial Press Office - telephone 020 7073 4852 or via email - press.enquiries@judiciary.gsi.gov.uk
Sanctions for misconduct by judicial office-holders are set out in the Constitutional Reform Act 2005. They are, in order of severity: formal advice, formal warning, reprimand and removal from office.
For more information about the Office, including details on how to make a complaint against a judicial office holder, you can visit the JCIO website at: Judicial Conduct Investigations website