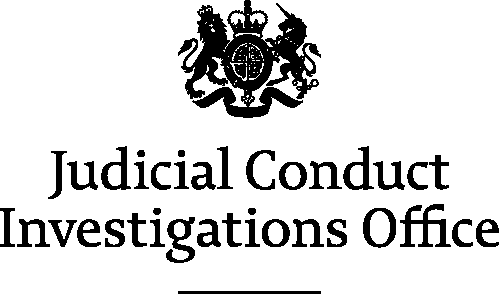 STATEMENT
JCIO 22/22
STATEMENT FROM THE JUDICIAL CONDUCT
INVESTIGATIONS OFFICE
Helen Mackay JP
A spokesperson for the Judicial Conduct Investigations Office said:
Mr Justice Keehan, on behalf of the Lord Chief Justice, and with the Lord Chancellor's agreement, has issued Helen Mackay JP with a formal warning for misconduct. Mrs Mackay was found to have made offensive comments to a candidate during his interview for the magistracy.

Mrs Mackay made comments regarding a protected characteristic under the Equalities Act 2010, which went against the guidance given to magistrates in the Equal Treatment Bench Book. The Advisory Committee found that Mrs Mackay initially failed to acknowledge the shortfall of her actions, deflected matters onto others and implied that she had not received appropriate training.

In reaching their decision they took into consideration Mrs Mackay's thirteen year unblemished history as a JP and that, following the Advisory Committee's report, Mrs Mackay accepted that her comments caused offence, expressed regret and accepted that her lapse in judgement should never have occurred.
ENDS
Notes for Editors
Media queries in relation to the JCIO should be made in the first instance to the Judicial Press Office - telephone 020 7073 4852 or via email - press.enquiries@judiciary.gsi.gov.uk
Sanctions for misconduct by judicial office-holders are set out in the Constitutional Reform Act 2005. They are, in order of severity: formal advice, formal warning, reprimand and removal from office.
For more information about the Office, including details on how to make a complaint against a judicial office holder, you can visit the JCIO website at: Judicial Conduct Investigations website