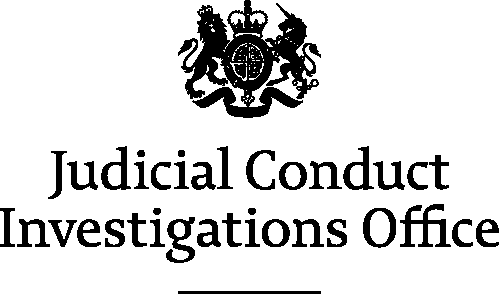 STATEMENT
JCIO 24/22
STATEMENT FROM THE JUDICIAL CONDUCT
INVESTIGATIONS OFFICE
Mr Michael Lesser JP
A spokesperson for the Judicial Conduct Investigations Office said:
The Lord Chancellor and Lord Chief Justice would have removed Michael Lesser of the Dorset bench from the magistracy for misconduct if he had not resigned before they made a final decision.

A member of the public complained about Mr Lesser to the South West Region Conduct Advisory Committee. Following an investigation, a conduct panel found that Mr Lesser acted with bad judgement during an altercation with the complainant, who at the time of the incident was his lodger. The panel also found that he had breached his obligation to report conduct-related matters to his bench chair, namely criminal allegations which the complainant made against him and which resulted in the police interviewing him twice.

The panel rejected Mr Lesser's argument that he did not have to report the matters because they did not result in charges against him.

After the conduct panel recommended his removal from office, Mr Lesser exercised his right to have a disciplinary panel consider the case. That panel also found that his actions amounted to misconduct and recommended his removal from office. Mr Lesser resigned before the Lord Chancellor and Lord Chief Justice decided whether to accept the panel's recommendation.

In deciding that they would have removed Mr Lesser from the magistracy, in addition to his most recent misconduct, the Lord Chancellor and Lord Chief Justice considered two earlier findings of misconduct against him: in 2018, he received a formal warning after accumulating nine penalty points for speeding offences. In 2021, he received a reprimand, the most serious sanction before removal, after receiving a 30-day driving ban for another speeding offence. In both cases, his failure to report these matters to his bench chair promptly was an aggravating factor.
ENDS
Notes for Editors
Media queries in relation to the JCIO should be made in the first instance to the Judicial Press Office - telephone 020 7073 4852 or via email - press.enquiries@judiciary.gsi.gov.uk
Sanctions for misconduct by judicial office-holders are set out in the Constitutional Reform Act 2005. They are, in order of severity: formal advice, formal warning, reprimand and removal from office.
For more information about the Office, including details on how to make a complaint against a judicial office holder, you can visit the JCIO website at: Judicial Conduct Investigations website