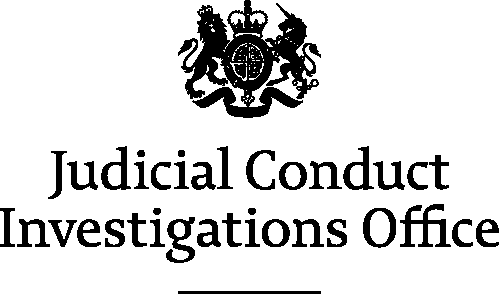 STATEMENT
JCIO 25/22
STATEMENT FROM THE JUDICIAL CONDUCT
INVESTIGATIONS OFFICE
Dr Ian Haffenden JP
A spokesperson for the Judicial Conduct Investigations Office said:
Mr Justice Keehan, on behalf of the Lord Chief Justice and with the Lord Chancellor's agreement, has issued Dr Ian Haffenden JP with formal advice for misconduct after he received six penalty points for a speeding offence.
Dr Haffenden explained that the offence occurred at a time of good visibility and limited traffic on a dual carriageway he regularly used. He was driving at the national speed limit and failed to adequately reduce his speed before entering a 50mph zone. He immediately decelerated after becoming aware of this. The magistrate had informed his judicial leaders immediately and pleaded guilty to the offence at the earliest opportunity.

A conduct panel considered that the magistrate's accrual of six penalty points represented a failure to display respect for and observance of the law and amounted to misconduct. The panel accepted that Dr Haffenden expressed genuine remorse, appropriately reported the offence, and cooperated with the criminal and disciplinary processes. The panel also acknowledged that Dr Haffenden had a previously unblemished record of conduct during his 21 years of service as a magistrate and that he had an otherwise clean driving licence. The panel recommended a sanction of formal advice. Mr Justice Keehan and the Lord Chancellor agreed.
ENDS
Notes for Editors
Media queries in relation to the JCIO should be made in the first instance to the Judicial Press Office - telephone 020 7073 4852 or via email - press.enquiries@judiciary.gsi.gov.uk
Sanctions for misconduct by judicial office-holders are set out in the Constitutional Reform Act 2005. They are, in order of severity: formal advice, formal warning, reprimand and removal from office.
For more information about the Office, including details on how to make a complaint against a judicial office holder, you can visit the JCIO website at: Judicial Conduct Investigations website