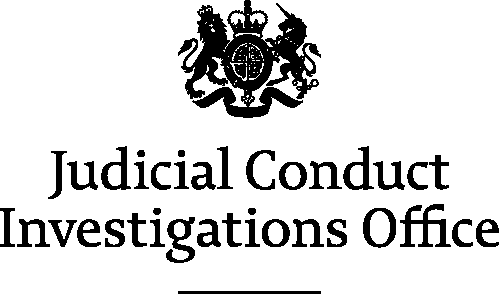 STATEMENT
JCIO 25/23
STATEMENT FROM THE JUDICIAL CONDUCT
INVESTIGATIONS OFFICE
Mr Richard Curry JP
A spokesperson for the Judicial Conduct Investigations Office Said:
Mr Justice Keehan, on behalf of the Lord Chief Justice and with the Lord Chancellor's agreement, has issued Mr Richard Curry JP with a formal warning for misconduct.

Magistrates sign a declaration and undertaking on appointment, which includes a commitment to be circumspect in their conduct, and the Guide to Judicial Conduct highlights the importance of courtesy, tolerance, and respect. The 'Useful Information for Magistrates' leaflet advises magistrates to speak to their bench chair or a deputy and to their senior leadership magistrate for advice about handling a grievance about a member of staff. There is a prescribed grievance policy for judicial office-holders to raise formal grievances about staff.

A complaint was referred to the London Conduct Advisory Committee after concerns were raised over the nature and tone of correspondence Mr Curry had sent to court staff in an attempt to raise concerns over lack of suitable court facilities for magistrates with mobility issues.

Mr Curry accepted that he had used blunt language in his correspondence but did not intend to cause distress. He admitted that he had been frustrated by what he considered as the lack of action in response to his concerns.

Following an investigation under the Judicial Conduct (Magistrates) Rules 2014, a conduct panel found that Mr Curry's correspondence did not have regard to his position as a magistrate. It went beyond 'blunt' and showed a lack of respect and common decency towards court staff and amounted to misconduct.

Having considered the mitigation offered by Mr Curry, Mr Justice Keehan and Lord Chancellor agreed with the panel's recommendation.
ENDS
Notes for Editors
Media queries in relation to the JCIO should be made in the first instance to the Judicial Press Office - telephone 020 7073 4852 or via email - press.enquiries@judiciary.gsi.gov.uk
Sanctions for misconduct by judicial office-holders are set out in the Constitutional Reform Act 2005. They are, in order of severity: formal advice, formal warning, reprimand and removal from office.
For more information about the Office, including details on how to make a complaint against a judicial office holder, you can visit the JCIO website at: Judicial Conduct Investigations website