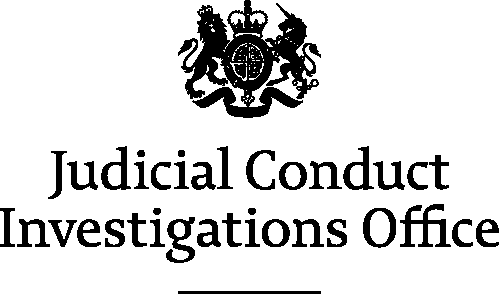 STATEMENT
JCIO 33/23
STATEMENT FROM THE JUDICIAL CONDUCT
INVESTIGATIONS OFFICE
Stephen Clements JP
A spokesperson for the Judicial Conduct Investigations Office said:
Mr Justice Keehan, on behalf of the Lady Chief Justice and with the Lord Chancellor's agreement, has issued Stephen Clements JP with a formal warning for misconduct after he made inappropriate comments to colleagues in the retiring room.

On 30 June 2022, Mr Clements made disparaging comments criticising the effectiveness of rehabilitation policies relating to sex and drug offenders.

Following an investigation carried out under the Judicial Conduct (Magistrates) Rules 2014, a conduct panel found that the magistrate's behaviour was not in keeping with the key qualities expected of a magistrate.

The panel found that Mr Clements was unprofessional and he failed to show self-awareness. The panel recommended a sanction of a formal warning. Mr Justice Keehan and the Lord Chancellor agreed.
ENDS
Notes for Editors
Media queries in relation to the JCIO should be made in the first instance to the Judicial Press Office - telephone 020 7073 4852 or via email - press.enquiries@judiciary.gsi.gov.uk
Sanctions for misconduct by judicial office-holders are set out in the Constitutional Reform Act 2005. They are, in order of severity: formal advice, formal warning, reprimand and removal from office.
For more information about the Office, including details on how to make a complaint against a judicial office holder, you can visit the JCIO website at: Judicial Conduct Investigations website